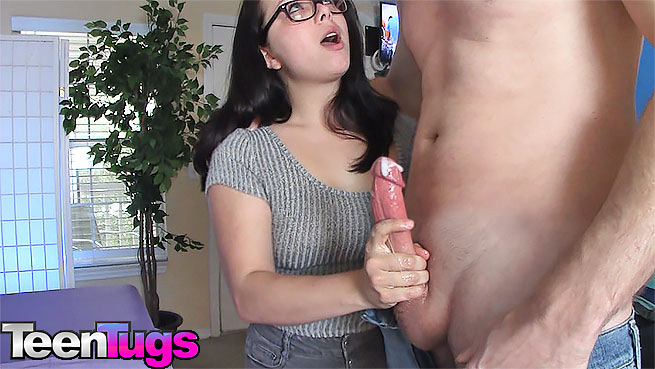 Most teen girls think of a quickie as something that involves penetration but not Jennifer Bliss. She's horny as fuck and definitely in the mood for a quickie but she prefers to focus on getting her man off which is why she settles for a handjob quickie in this new and very intense video from TeenTugs.com. The two are very clearly pressed for time so she stays dressed and he unzips and pops his dick out of his jeans, giving her just enough access to get the job done.
Getting the job done is what this chick was made for and she meticulously goes to town on her boyfriend's dick, stroking it up and down and hitting all his sweet spots as she works her hands off to give him the quick release he desires. She focuses her efforts on his cock head which she rubs feverishly and almost makes the lucky guy nut in her hand with all her rubbing but he holds out.
He still wants her to put in some more work so she lubes him up real good and tugs and yanks away at his prick until it throbs so hard and his cum almost spills out. Jennifer Bliss is super turned on by how close her man is to exploding and when she feels him tense up some more, she strokes his cock even faster until a huge load of thick cream comes gushing out of his prick. Her sensual post orgasm stroking is worth a peek, as is watching her marvel at her cum-laced fingers!