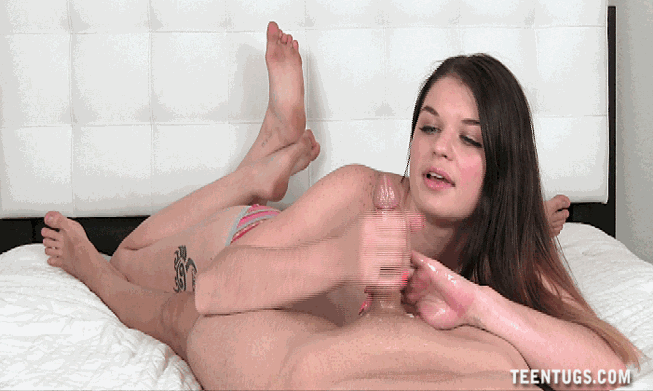 Give a girl a thick cock and watch her go nuts all over it as she playfully tugs it and massages it with her soft hands until it bursts. This is true with Anastasia Rose when she hooks up with you in this stunning episode from TeenTugs.com. She enjoys milking cocks and seeing your erect boner excites her beyond words so she slides on the bed next to you and grabs your cock, slowly pumping it until it gets harder and harder. Then she tightens her grip around your cock as she strokes it from head to base fully intending to make you explode.
Anastasia Rose is good at many things and one of them is making cocks burst. Today she wants to make your thick cock spurt out all its jizz and she knows the only way to make that happen is with a handjob so she gives you one, but not just any sloppy handjob as this amazing POV handjob video shows. This hot brunette teen is a pro when it comes to cocks and she handles yours like its a fragile gem. She forms a circle with her fist and runs her hand from your sensitive tip to the base of your cock.
Then she takes her pink bra off so her boobs can make skin to skin contact with your bare thigh as she leans into your crotch and tightens her grip on your throbbing hard penis. Anastasia Rose bites down on her lip and increases the pressure of her stroking as she positions herself in between your legs and when she feels you tensing up in anticipation of ejaculation, she grabs the base of your dick and watches in awe as cum shoots out of your dick head.