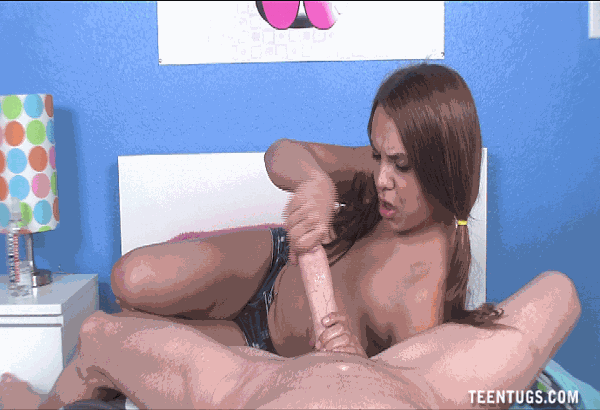 Porn babe Maria Jade is unruly and bratty. Like most teen girls her age, whenever the parents leave the house she generally gets into all sorts of trouble. This time its no exception, as the constantly horny as fuck teen calls up her friend with the big dick, because she wants to milk it dry and nothing will prevent hr from doing that. Even with the limited amount of time she has to make it happen. Luckily for her Joey comes by with an erect dick ready for a stroke.
Maria unzips his pants, his hard on is fully exposed as she starts to tweak his cock tip with her tongue. She licks the head like a lollipop and runs her finders down his throbbing shaft. This really makes his cock hard. She spit shines his know and gives him a blowjob while holding the base of his cock, a human cock ring of sorts. This makes hi even hard than before. Maria wraps her lips around his big dick and the man tells her he is about to burst, but the teen knows what she is doing and pulls away. She brings this guy to the edge repeatedly, over and over again when she finally lets him cum.
The cock milking queen opens wide and takes his load of salty semen, and not a moment too soon. because that's when mom and dad walk in and all hell breaks loose. Check out more of porn babe Maria Jade at TeenTugs and download the full HD episode today!